Neighborhood Watch Program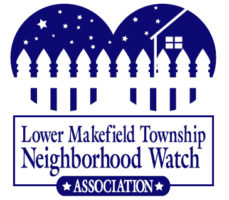 Lower Makefield Township Neighborhood Watch Association
In cooperation with, and with assistance from, the Lower Makefield Police Department, Lower Makefield residents have formed the Lower Makefield Township Neighborhood Watch Association, with the goal of increasing awareness within our community of events of interest, criminal and otherwise, that affect us all.
LMTNWA is comprised of smaller individual watches, each associated with a particular development or location and headed by a coordinator. These coordinators meet on a regular basis with Police Department Officials in order to maintain good relations with the township and also to keep abreast of all happenings in our community that we need to be aware of.
We urge all sub-divisions within our community to take part and organize their own neighborhood watch.